Thinking about installing water underfloor heating? These systems provide low-carbon, energy-saving warmth by utilising inter-connected circuits of heating pipes installed beneath your floor's surface to heat different areas of your home, for a truly personalised heating solution. In this expert article we'll tell you everything you need to know about water floor heating circuits, including: 
How floor heating circuits work

 

The many benefits of a zoned heating solution for your home

 

How to design the best UFH system layout for every space

 

The easy ways to control water underfloor heating

 

How a zoned heating system is suitable for both new-build and renovation projects

 
How do water floor heating circuits work?
Water underfloor heating systems are typically divided into systems that are designed for larger projects, whereby the heating pipes are submerged within a layer of concrete screed, or low-profile systems where the pipes are fitted within the heating system's panels directly. In both cases, the heating pipes should be installed as separate 'circuits', or loops of pipework, that will heat different areas of the home in isolation – these areas are also referred to as 'heating zones'. For instance, in a typical, two-bedroom, one-floor apartment, three water UFH circuits may be recommended to create three distinct heating zones: the main living and kitchen area will be heated by one water UFH circuit, the bathroom will be heated by another and the bedrooms, a third.  
What are the benefits of zoned heating?
A zoned heating system, with each area of your home heated by its own floor heating circuit, will provide controllable heat that is customisable for your needs. Different areas of your home will require different temperatures, at different times, and zoned heating provides this function. In the colder winter months, it's a good idea to heat your bedroom gently overnight or from the early hours of the morning so you start the day as comfortable as possible, whereas it may prove inefficient to heat your living room to the same level of warmth during this time period. By utilising heating zones where these spaces are separately heated by their own UFH circuits, you can take control of your heat schedules, greatly improving your home's energy performance whilst saving money on your energy bills.  
Looking for more information about zoned heating? Read our guide to discover everything you need to know.   
 "A zoned heating system provides controllable heat that is customisable for your needs" 
What is the ideal underfloor heating circuit design for my home?
Working with your underfloor heating installer, or with the Warmup Projects Team, you will easily be able to design the perfect heating layout for your home. Depending on the size of your project, you may choose to simply fit the circuits based on room designations and a circuit for each room is one option. But there are some expert tips that we can share to make heating your home as efficient as possible.  
Large rooms, such as open-plan living and kitchen areas should utilise their own floor heating circuit – always avoid installing two circuits of pipes in the same room. 

 
Rooms that have high levels of heat loss, such as those with little insulation or featuring external walls or larger windows or skylights, will require a greater heat output from your heating system. For these spaces, a room-dedicated floor heating circuit is recommended so this heating zone can be heated to a higher temperature than other areas of the property. 

 
Concurrently, well-insulated rooms should use another UFH circuit to ensure they are heated to an appropriate temperature to avoid overheating. 

 
Bathrooms are often recommended to utilise separate circuits as these rooms are typically heated to a slightly higher temperature than other rooms in a home.

 
In a multi-storey property, different floor heating circuits can be installed on the different floors. Depending on the size of the building, you may require multiple circuits on each level.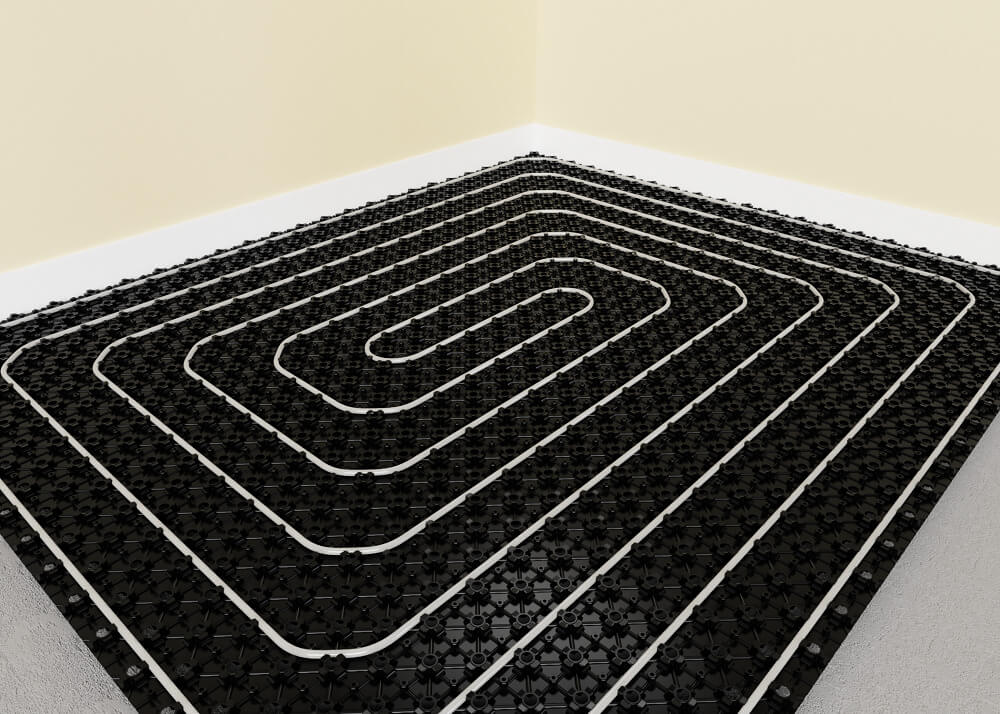 How do I connect and control the floor heating circuits?
The floor heating pipework that make-up the circuits will be connected to a Manifold which acts as the heart of your UFH system, managing water pressure, flow-rates and temperature regulation. The Warmup S3 Manifold™ provides flexible zoning and water regulation for 2 to 12 water underfloor heating circuits, making it suitable for both large and small projects. Constructed from a single piece of 304-grade, laser-etched Stainless Steel for high corrosion resistance, it ensures operational precision and offers long-lasting, best-in-class performance.  
You can use underfloor heating with many different heat sources, from traditional gas-fed boilers to biomass boilers to heat pumps. Due to its radiant heat technology, underfloor heating is designed to run at lower temperatures (somewhere between 40°C to 65°C is typically recommended) than standard radiators whilst providing the same level of comfort. These lower temperatures make UFH ideal to use with ground and air-source heat pumps. 
Zoned heating systems will require system-dedicated thermostats to provide zone-by-zone, or circuit-by-circuit control. The Konekt range of water floor heating controls provide a wireless solution for controlling these systems. Its Smart technology allows you to set-up personalised, automated heat schedules in different parts of your home with the option of grouping heating zones together for even greater comfort and efficiency.   
"Zoned heating systems will require dedicated thermostats to provide zone-by-zone control" 
Can I install a zoned water floor heating system in my home refurbishment?
Yes, you can. Warmup offer a wide range of low-build floor heating systems designed specifically for renovation projects that won't have a significant impact on floor levels. Many of our systems also offer a 'dry' installation which do not require the usage of concrete screeds – thereby keeping the build height even lower.  
The VLo line of low-profile water underfloor heating systems are a great choice for your upcoming home renovation. The VLo line is comprised of three different solutions, with each system designed for a specific application. The VLo Ultra-12 Low Build System is for use with uninsulated floors, the VLo Nexxa-12 Castellated System for insulated floors and the VLo Econna-12 Joisted Floor System is designed for use with joisted floors.  
Discovering the perfect system for your home is easy using our online quoting tool. Enter a few basic details of your project and we'll select the best system for your requirements and tell you how much it will cost to purchase. All Warmup systems feature world-class warranties and you can even get a water UFH system delivered straight to your home.