Building a self-contained annex or garden room is one of the most popular home improvement trends of 2022. If you're thinking about increasing the living space of your home with a new exterior room, then making sure it is adequately heated should be one of the key decisions to make early in the project. In this guide we'll explore the best heating methods for these types of buildings, you'll discover:
The benefits of garden rooms
How to heat a garden studio and keep it warm
The best electric floor heaters for annexes
The best water underfloor heating systems to install
How to buy UFH for a bespoke garden room
What is a garden room?
A garden room is an exterior building that is separate from the main house, as opposed to a conservatory or extension which is connected to the house. Garden rooms are typically built at the bottom of larger gardens, in lieu of a typical shed, and can be used for a variety of purposes, such as a gym or yoga studio, a dedicated home office or garden workshop to use when working from home or as a summer house for entertaining. These spaces can also be used as home annexes – a self-contained guest suite for visitors to your home.
A new garden room or annex is a great way to improve your home's flexibility, giving you extra space whilst potentially adding thousands of pounds to the value of your property.
How to heat contemporary garden rooms
Looking for garden room ideas? Making sure your new space has a suitable heating solution and is well insulated will allow you to use it all year round in total comfort. Because these kinds of buildings are separated from the main building of your home, simply connecting them to your home's existing heating source, as you might with an extension, can be very complicated and expensive. So, a new room-dedicated heating system is the best option for these projects.
Electric panel heaters and wood-burning stoves have been a common choice for home annexes and garden rooms, but wood-burning stoves have a high CO2 impact and panel heaters can take up a lot of the limited wall space. A more contemporary method of heating your garden room would be a radiant underfloor heating system.
Is UFH suitable for home annexes?
Warmup's range of electric and water floor heaters are a great idea for new-build garden room projects. Whether you're building a garden office, guest annex or a home-cinema, underfloor heating will bring energy-efficient warmth to the space with low UFH running-costs. Floor heaters provide a 'zoned' heating approach – meaning they can heat smaller areas of the house, in isolation from each other, greatly improving your home's energy performance. They also offer an 'invisible' heating method, with no need for visible pipework, making them ideal for smaller spaces such as garden rooms. And when controlled by a Warmup Smart Thermostat, which provides remote control as well as automatic heat functionality, your annex's floor heater can be operated from the main house or wherever you are – warming the space up in time for use.
Good quality underfloor heating insulation is always recommended when installing floor heating in these buildings to maximise on the energy-efficiency of the heater and a well-insulated garden room will keep the heat produced by the radiant system within the space, especially in a garden room featuring double doors and large windows.
The best electric floor heating system for summer houses
Electric underfloor heating systems come in the form of either heating mats or heating cables which are installed under your final floor finish and connected to your mains electricity. Electric systems offer quick heat-up times, won't raise your floor levels and can be fitted in smaller garden rooms in just one day.
Choosing the best electric heater for your room is often based on your chosen floor finish and subfloor type. Stone or ceramic floor tiles are a popular floor type for garden rooms as they are easy to maintain and optimise the harmony of an indoor-outdoor space. The DCM-PRO Heated Decoupling System would be a great selection for garden room projects as it has been developed specifically for use with tiled floors, helping to protect the tile from any potential damage caused by subfloor movements.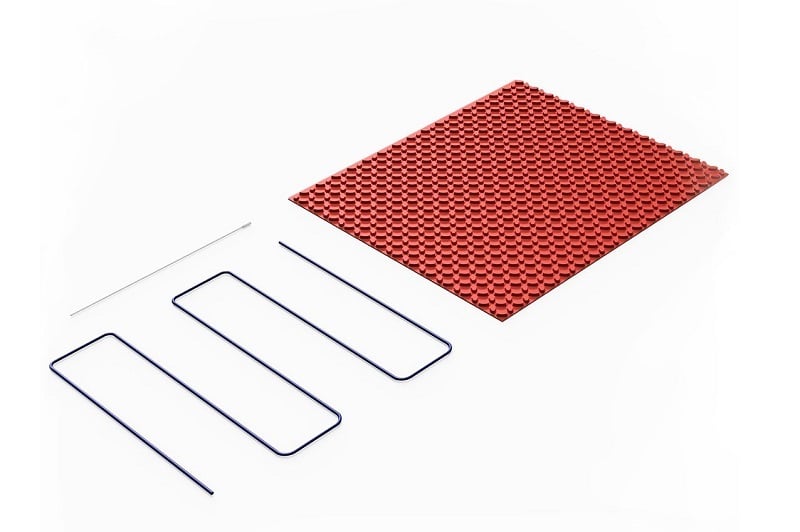 The best water underfloor heating systems for outbuildings
Water floor heating systems – also referred to as wet or hydronic heating systems – are another great option for heating new-build garden rooms. Wet systems pump heated water through pipes installed as part of the room's subfloor and they therefore can have some impact on floor levels – so it's a good idea to consider the requirements of a wet system as part of your room's architectural plans. These systems can be used with a traditional boiler-based heat source or a ground or air-source heat pump.
Looking for a wet system for a home annex? Warmup's Hydropack System is great for use in single-zone projects. You can install the Hydropack during the construction stage of your garden room or annex, fitting it as you lay the foundation of the building.
How much will a garden room UFH system cost?
Warmup floor heaters provide great value for money, and you can find out exactly how much a new system will cost for you garden room or annex using our online quote tool.
Want to get a quick idea of how much an electric system will cost to purchase? See our price breakdown for the DCM-PRO System for a garden room of 20 M/2 featuring a concrete subfloor and tiled floor finish.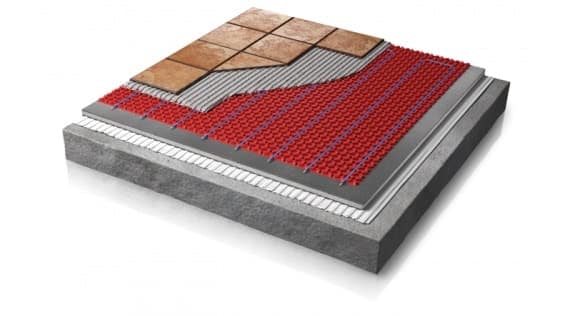 DCM-PRO Heated Decoupling System for 20 SQ/M:
£931.20 + VAT
The cost of installing a floor heating system in home annexes and garden rooms will vary depending on the needs of your project and your location but typically you can expect to pay a qualified installer around £200-300 a day. Get a quote today or find your nearest Warmup stockist and discover the best heating solution for your new garden room.