Our collection of Smart Thermostats are packed full of unique features that work intuitively to provide you with optimised, energy-efficient heating. In this article we'll illustrate the ways in which our controllers can assist you in not only reducing your home's carbon emissions but also dramatically reduce your energy bills. You'll discover:
How our Smart controls improve energy-efficiency

Which thermostat is best for your home

The benefits provided by our Smartphone apps

How much money you could expect to save
Will a Smart Thermostats improve my home's energy performance?
Smart Thermostats enhance the efficiency of underfloor heating. Our range of electric and water floor heating systems can offer lower running costs than traditional systems due to quicker heat-up times and their ability to run at lower temperatures – all while still producing the same level of warmth as central heating systems. Using Smart multi-zone thermostats to control your heating maximises on this energy-saving technology by ensuring that the correct area of your home is heated at precisely the right time and the right temperature for your needs. Automatically. Thereby reducing energy wastage and in turn, saving you money on your bills.
"Multi-zone Smart thermostats can save up to an additional 25% on energy, compared to basic thermostats" 
Which controller is right for me?
With no need to program, Warmup's Smart heating controls are quick to install, easy to use and suitable for all kinds of projects.
Designed with your comfort, energy-efficiency and cost-savings in mind, the 6iE Smart WiFi Thermostat is the world's first UFH controller with a Smartphone touchscreen. Combining advanced technology with premium design and materials, it is the Smartest way to control floor heating systems.
The Element WiFi Thermostat has been designed with simplicity and stylish functionality in mind. It brings energy-efficient heating control to all Warmup heating systems and its sleek, unobtrusive design will suit any home décor.
Warmup's Konekt Wireless Controls provide precise heating management for both water floor heating systems and central heating systems. The Konekt system offer a low-impact installation method, with little intrusive building work required.  
And through the IFTTT platform or Amazon Alexa app, you can connect a Warmup Smart Thermostat with other Smart devices in your home to control your heating by voice – working together to create a more intuitive, fully-realised Smart Home. Find out more about controlling your heating system using a Smart Speaker in our expert guide.
Working with Warmup's Smartphone apps for intelligent temperature control
Our Smart Thermostats work in tandem with our partnered Smartphone apps to facilitate remote access and automatic heat functionality to help reduce running costs.
The MyHeating app utilises our innovative SmartGeo technology to learn your routines and calculate more efficient settings, helping to create a more energy-conscious home. It can inform the thermostat to lower your home's temperature when vacant and raise it to an ideal comfort temperature in time for your arrival – meaning you never have to come home to a cold house again. SmartGeo can also track unexpected delays or change of plans, only heating your home when it is sure you are returning.
"SmartGeo is more advanced than typical Occupancy Sensing Technology in other thermostats"
Unlike the common Geo-Fencing Technologies of other manufacturers, which only alerts the heating system as someone leaves or enters its system boundary (thereby causing significant energy wastage), SmartGeo accurately reads your location and controls the heating accordingly.
Available to download onto an Android or iOS supported Smartphone, MyHeating enables energy monitoring and usage data for your heating system too and all Warmup Smart Thermostats use the secure AWS IoT platform and high levels of data protection for your peace of mind.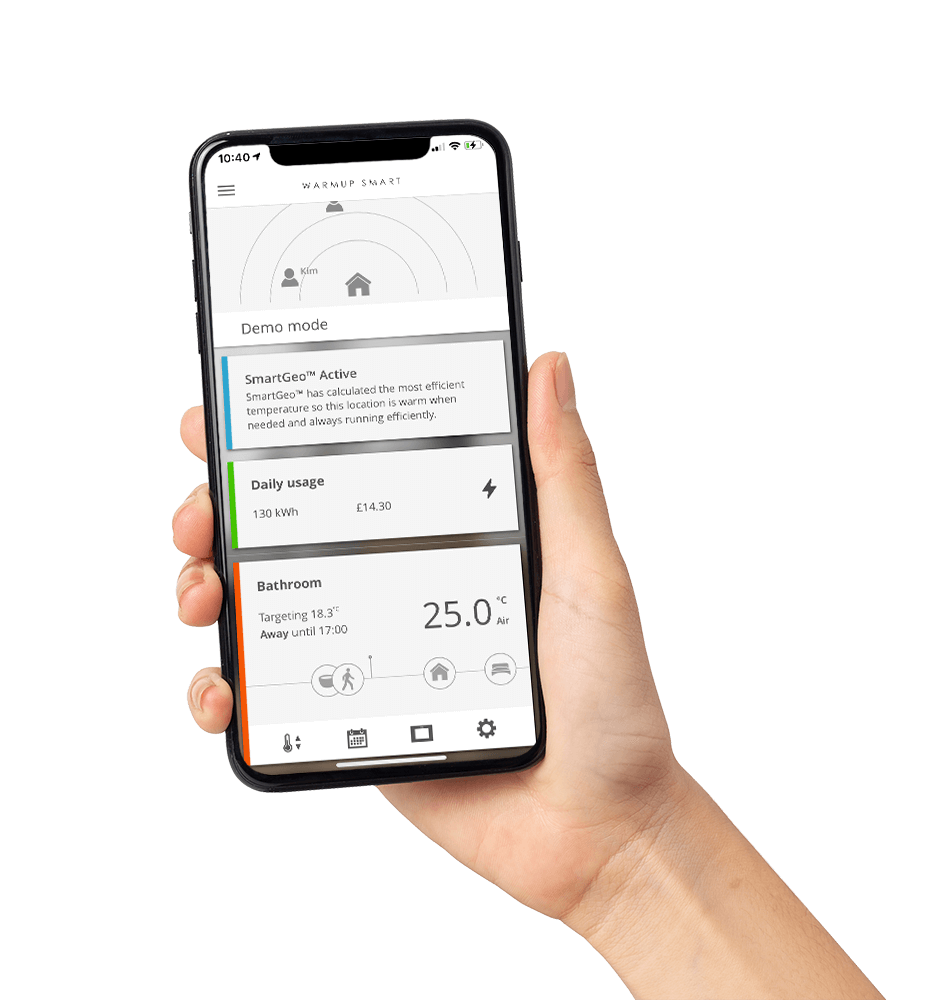 Automatic tariff-switching for maximum savings
UK households have overpaid billions of pounds for their energy over recent years due to the fact that when you sign up with an energy supplier you will only get their best deal for the first twelve months. After that initial period is up, you are automatically moved to their standard rate – often at a significantly higher price. Working alongside your Smart Thermostat and MyHeating app, the AutoSwitch app uses tariff-switching to guarantee you the best energy deal on the marketplace. Completely independent from energy suppliers, AutoSwitch works in the background to keep you on the best value tariff every year, effortlessly and automatically – saving you an average of £210 per year.
How much money can I save on my energy bills with a Smart Thermostat?
By greatly reducing energy wastage whilst providing remote access, tariff-switching and routine learning capabilities, using a Warmup Smart Thermostat to control your heating alongside the MyHeating and AutoSwitch Smartphone apps could save you up to £400 a year on your energy bills. Cost-savings can vary depending on your home's design, levels of insulation and which energy-tariff your property is on, but the potential savings offered could be of great help in reducing your home's outgoing costs.
"Save up to £400 on your annual energy bills"
Considering a new UFH system for your home? Complete Warmup solutions comprising of a heating system with heat controls and accompanying insulation are available to purchase from as little as £350. Get a free instant quote today using our simple online tool.
Saving even more money with a Smart water underfloor heating system
Looking for even bigger savings for your home? If you're planning a large-scale renovation project or building your dream house from the ground up, then a water floor heating system installed with a heat pump and accompanying multi-zone Smart thermostats and insulation can dramatically lower your home's carbon emissions and bring substantial financial savings in the long-term. Read our informative blog post about the benefits of heat-pump-operated floor heating systems.