Home / Troubleshooting / StickyMat System
Where should I place the floor sensor?
The floor sensor should be placed centre of two wire runs at least 300mm into the heated area.
It is important that the floor sensor is fitted in the correct location in order to read an accurate floor temperature.
The floor senor must not be placed to close to the heating element or cross over any of the heating elements.
It may be necessary to channel out a groove into the subfloor in order for the sensor to sit at the same height as the heating element.
Secure the sensor to the floor using tape but do not tape over the sensor probe tip as this will result in inaccurate temperatures.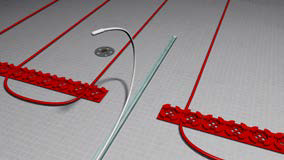 Check out the below installation video that references installing the floor probe: